Investing in power tools takes your projects to the next level.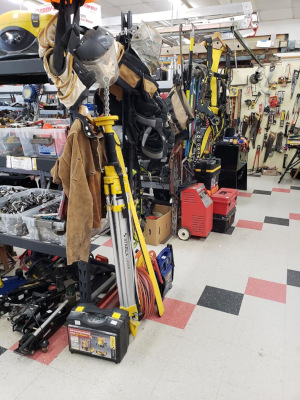 Having the right tools can make all the difference, whether you're an experienced DIYer, a professional tradesperson, or just someone who does home improvement jobs every now and then. When you buy power tools, you improve your speed, accuracy, and general ability to do a wide range of tasks. At BLADE RUNNERS PAWN LLC, we have a large selection of power tools to choose from that you might not find elsewhere, allowing your money to go further in the Winston-Salem, North Carolina area.
One of the best things about power tools is that they save time. Even though hand tools work, they often take more time and effort. On the other hand, power tools are made to work quickly and can significantly speed up your projects. For example, a power drill can make drilling holes or drive screws easy, cutting the time to finish a job in half.
Precision is also critical, especially when working with wood, metal, or electricity. Power tools are made to work the same way every time and give correct results. Features like laser guides, depth stops, and digital screens help you make sure that your cuts, holes, and fasteners are accurate and free of mistakes. This makes you less likely to make mistakes that cost you a lot of money.
Additionally, you can buy power tools to replace multiple hand tools, lightening your load and allowing you to multitask. This means you can buy fewer tools, which saves you money and makes your workshop more manageable.
The choice to buy power tools is smart for anyone wanting to get things done faster, more accurately, and better. Whether you're a skilled tradesperson or an avid do-it-yourselfer in the Winston-Salem area, power tools can save you time, make you more productive, and give you more project options. Stop in today to see what tools we have in our inventory.